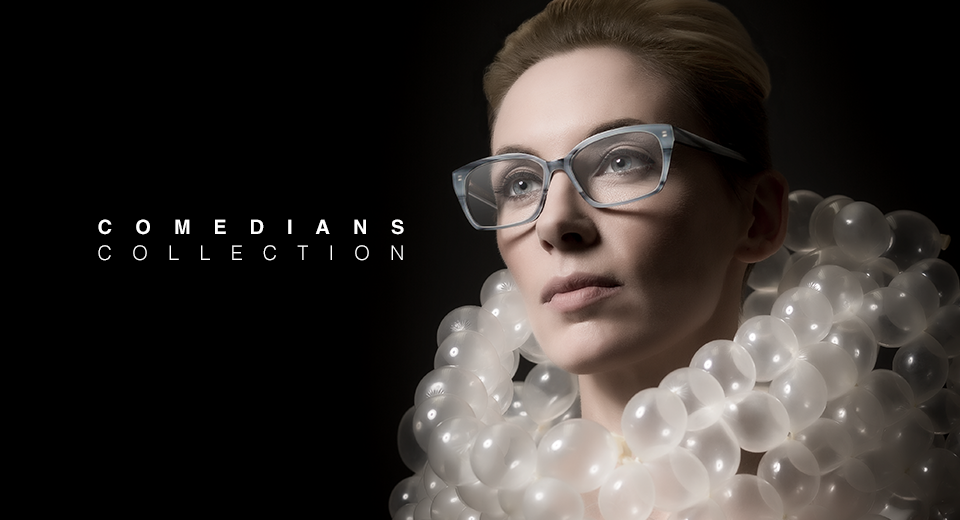 BEVEL FALL/WINTER 2017: Inspired by great comedians and comedic roles
What moves us: Discovering new ways to blend color and materials to make our frames more comfortable and easier to wear.
TITANIUM. This collection debuts two new major innovations in our titanium frames.
The first:
Two styles with aluminum in the brow, a titanium base and acetate temples — one for her, one for him. Acetate temples complement the thickness of the front. The aluminum is, of course, lighter, but it also offers a different texture and aesthetic.
The second: An enhancement of our Spring release, using a milled insert in a beta titanium front, with the insert covering the full frame front. Again, extremely lightweight and a beautiful blend of stunning colors.
ACETATES
.
Our acetates continue the chiseled look, incorporating a clean, mitered hinge with deep, intricate hues. A new color — pinot noir — is a personal favorite. It can be worn by men or women and offers a subtle option in the deep red palette. A new gradient was a big hit at launch.
Our team's fun-loving humor is legendary, as are the superstars featured in the frame names.
– Richard Mewha, El Presidente
, 3-dimensional
look. It's an alteration that makes a big impression.