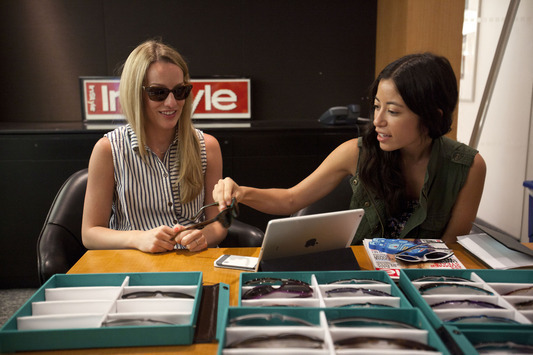 A few weeks ago, I lost my sunglasses. It wouldn't have been so tragic if it weren't for the fact that a) the pair fit me to a T and b) the style was last season and thus sold out. Finding that specific frame that complements your face shape can be a near impossible feat. Often when I visit stores, I'm overwhelmed by the myriad of options and lack of assistance and end up walking out, defeated.
So when Richard Mewha, co-founder and president of Bevel dropped by our office to demonstrate a proper sunglass fitting, I was craving his advice. Founded in 1999, Bevel began with the fashion-centric ethos of turning eyewear into an accessory. Their aesthetic can best be described as sleek, modern, and minimalist. But most of all, the fit is extremely precise.
"Fitting is best done by an expert," U.K.-born Mewha told me in his proper British accent, which will instinctively make you feel like he knows more than you (and he does—at least about optometry). Doubling as somewhat of an eyeglass wizard, he strongly believes that fitting should be a one-on-one experience, and therefore offers a fit service in every store where Bevel is sold.
What I learned from Mewha is there's a lot more to sunglass shopping than simply choosing a frame you like. There are various factors to consider whilst selecting your pair, such as width, ear size, ear proportions, and, most importantly, color. In fact, the first thing Mewha does when he sits down to design a new collection is create a color palette, ensuring there's a soft hue inside the frame that works well with a range of skin tones and balances the outside color.
The secret to finding the perfect frame? "Treat color combinations within the frame much like how you treat make up," he said. And he was right: When Christina Shanahan (InStyle Associate Editor,pictured above, left), who favors neutral-colored cosmetics, tried on the Silvia in Burlywood (a citrus wood-colored style), the fit was flawless.
— Claire Stern, InStyle Editorial Assistant
Photo credit: Alex Reside for InStyle.com