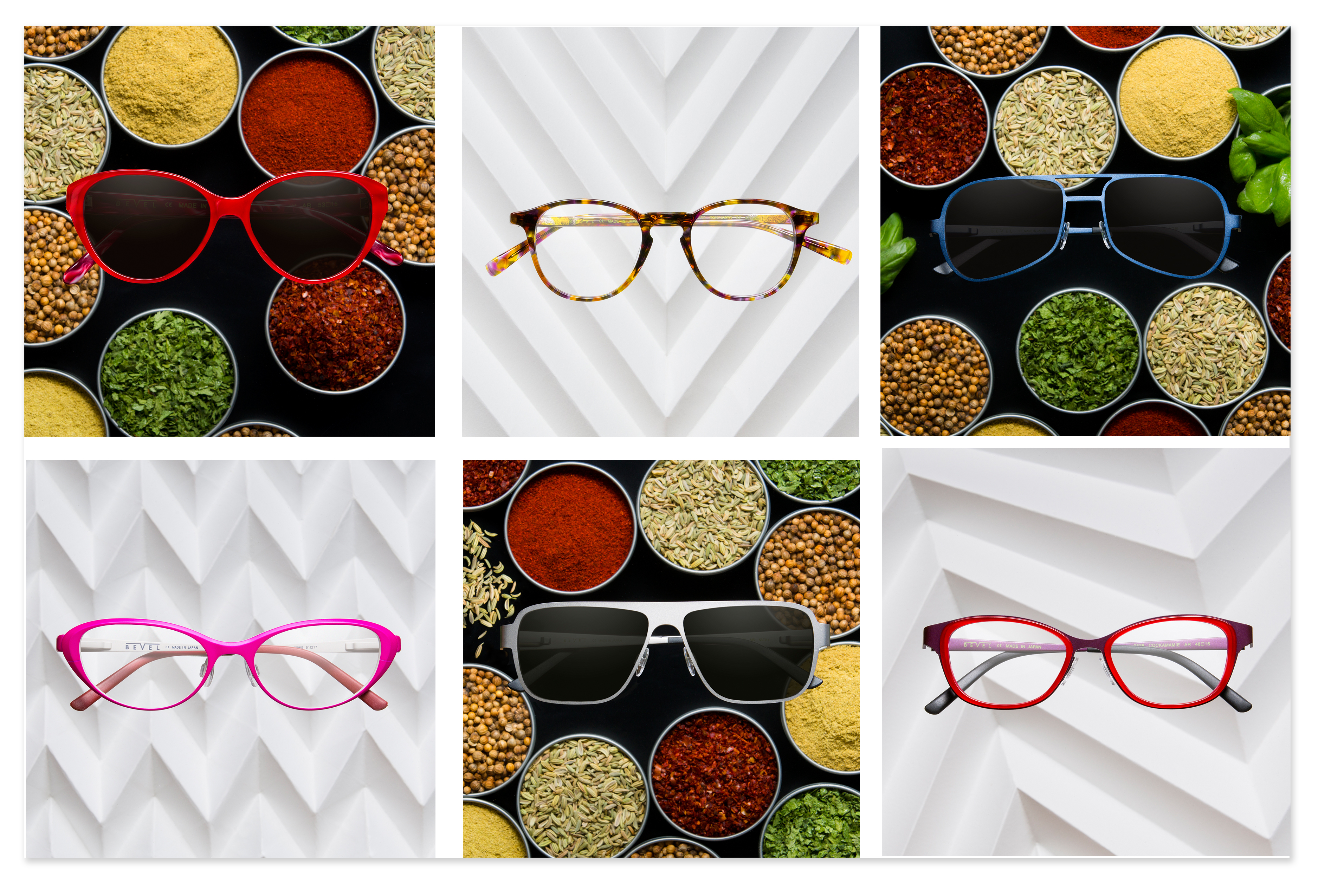 Our Spring 2016 Collection marks a move towards gentle upsweeps and smooth edges, inviting softer styles to the distinctive Bevel look. New colors, patterns, and combinations accompany the unique pieces.
With plenty to debut in this line, we wanted a fitting naming theme. Like with past collections, I looked to my personal interests for inspiration.
Opticals
As an avid reader, I'm a bonafide word-lover. Like great design, the best words transform what's plain and predictable into something fresh and unexpected. There's a zest about them. You'll find some of the more inane of my favorite words such as banjaxed, codswallop and kerfuffle used to name the optical line.
Suns
To celebrate the colors of the collection, my food affinity seemed the proper route. Growing up in England, meals were bland. Overcooked roasts and lifeless vegetables were the standard supper (sorry, Mom). Thankfully, all that changed when my sister returned from holiday in Singapore with various recipes and spices. She revealed to me the possibilities—the mundane could be made brighter, bolder, and loads more appealing. Some of my choice spices round out the rest of the names in the collection—fennel, tarragon and coriander.
In short: words and spices shake things up. They embody color, originality, and the exploration into what's new. It's in that same spirit we developed this collection.
Titanium
Enticing color options for ladies and lads. Soft hues provide a feminine allure while the matte and shiny finishes compliment more masculine features.
Acetate
A range of rich color embrace the acetate frames.. Deep blues, reds, and purples forge striking patterns. There are flattering options for wearers of all shapes, sizes, and skin tones.
Combination Frames
Eager to add even more color to the collection, we developed new combinations of Titanium frames and Acetate inserts. The daring unions of color create powerful contrasts and give the wearer a compelling aesthetic. These make especially strong choices for those with milder skin tones.
Complimentary Colors
Complimentary interior and exterior colors give frames an uncommon dynamic touch. But, what's most unique about the dual-color frames, is our approach to crafting them. When choosing interiors, we observe them through the lens of cosmetics. We find colors that pair with an array of skin tones to give wearers a way to find something more personalized and authentic to them. For exteriors, we turn to colors we've never used before. This takes a fair bit of research, but that's the price of innovation. Although we're aware of trends, we don't rely on them to tell us what's "in".
Unique Shape: The Bevel
Well. It took 17 years, but we finally have a line of our namesake frames. What took us so long? In our defense, materials and technologies of the past simply weren't able to create the the type of beveled edge found in this line. But today, we're happy to introduce a frame which speaks to all that our brand stands for--sleek, modern, minimalist design aesthetics . The frames come in two thicknesses. The 2mm frame suits more conservative looks, while the 3mm offers a bolder, more definitive appeal.